Continuing with my local and cruelty-free business series, today I'm talking about Cailleach Candles.
Cailleach Candles is a treasure chest of candles, crystals, incense, sabbat boxes and books. Creator Nola makes amazing vegan candles from her home in Cavan. The candles come in 100ml or 250ml tins and are made from soy wax. What makes the candles extra special is that they are mixed with dried herbs, flowers and crystals. Not only do the candles smell gorgeous, they are decorated to perfection. Cailleach candles are made with love and intent. Nola has created various collections such as Diety, The Witches and Lunar.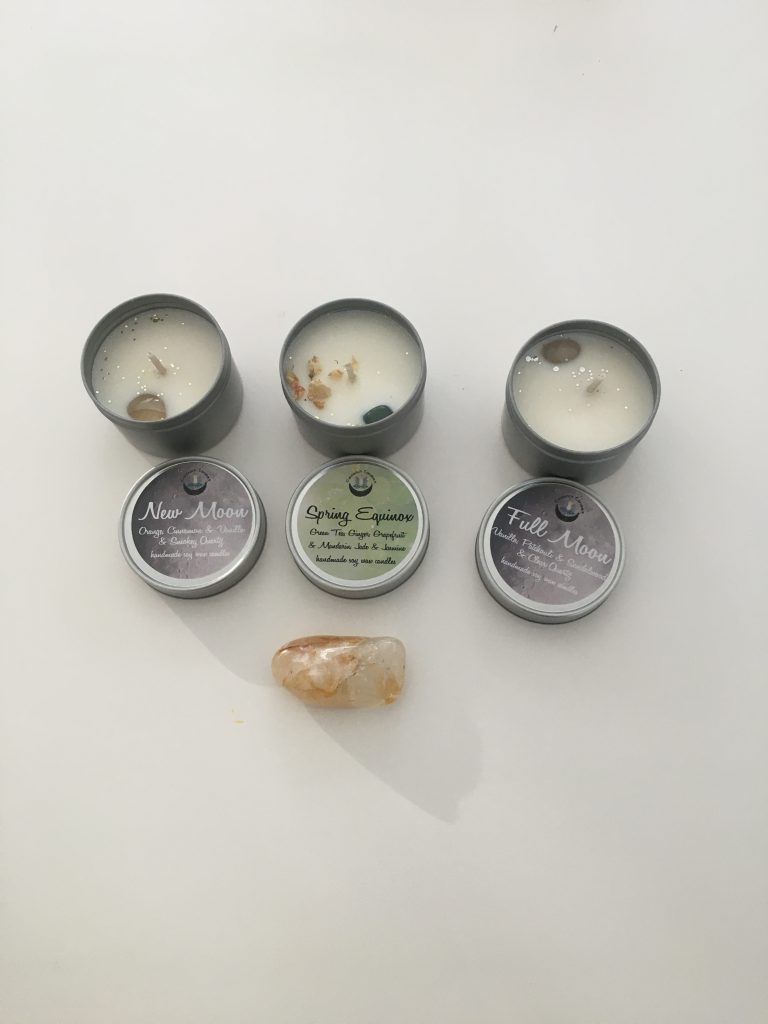 My assortment of these candles is ever growing but at the moment I have Spring Equinox, Beltane, Brigid, Green Witch, New Moon and Full Moon.  I nearly always have one lighting in the house and have different spaces for each scent.
Starting with the festival candles, Spring Equinox is a zesty blend of green tea, grapefruit, ginger and jasmine.  This is one of my favourites.  I have recently started yoga in the morning and this is my go-to candle to light before I start.
Beltane perfectly represents the festival and has a gorgeous burst of floral loveliness.  It contains almond milk and is topped with daisies and a rose quartz crystal. It is currently lighting as I type.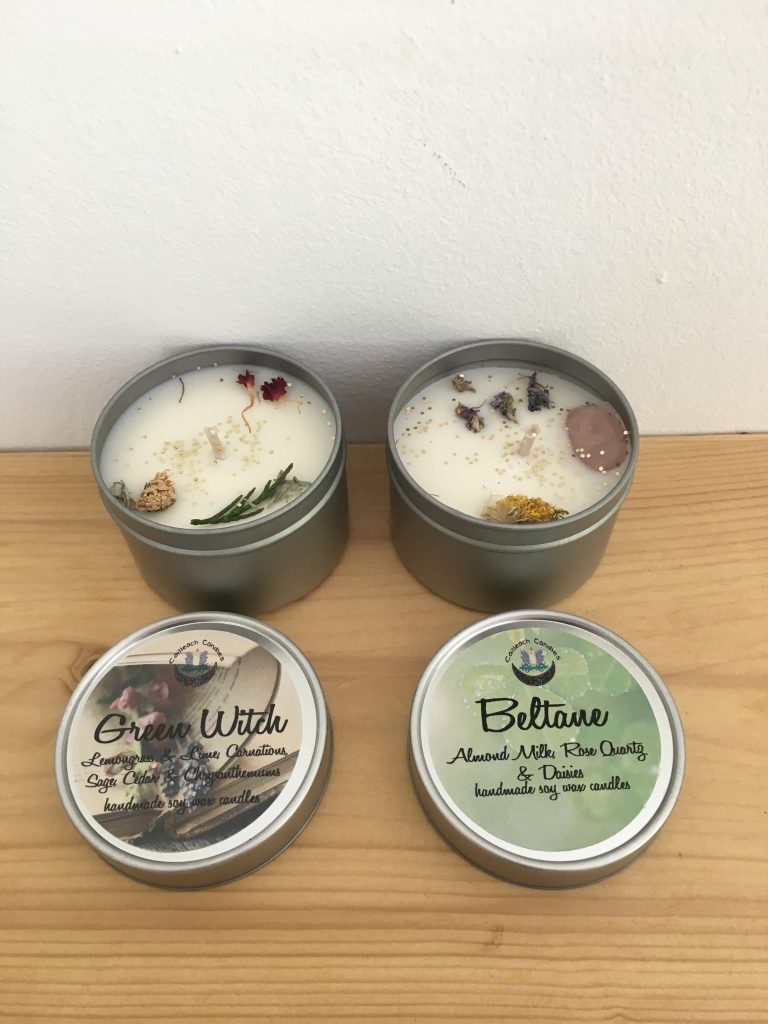 Green Witch is a citrus explosion and contains lime and lemongrass, topped with carnations, chrysanthemums, sage and cedar.  I like smelling this one throughout the day and I love its uplifting scent.  If you try one candle, this is the one I most recommend.
Brigid is a diety candle paying homage to the Goddess. It smells of spring with honey, rose and amber. Brigid is topped beautifully with an amethyst crystal and dried daisies.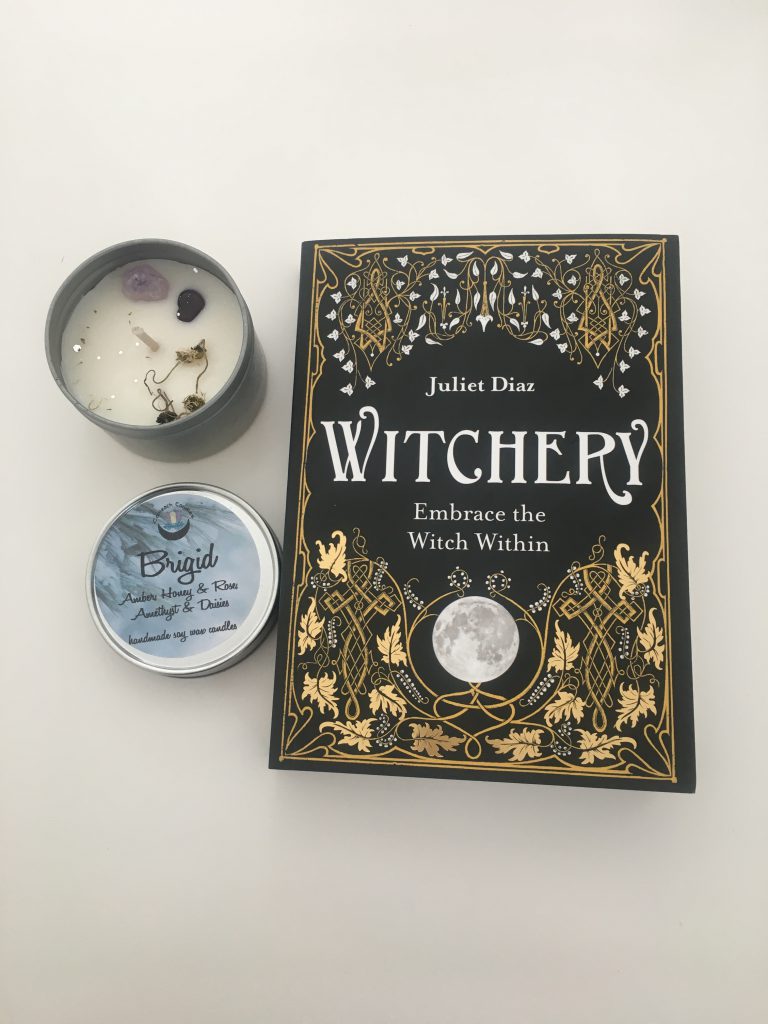 The Lunar collection contains New Moon and Full Moon. New Moon is a lovely blend of vanilla, cinnamon and orange topped with a smokey quartz crystal. Full Moon contains a combination of vanilla, patchouli and sandalwood and is topped with a clear quartz crystal. I light these to celebrate and welcome both the new and full moon. Both of these candles come in a mini moon set which costs €10.50.
The scent from each candle is very strong without being overbearing.  I find that the scent lingers long after the wick has been extinguished which is great. The candles are long lasting and each of them possesses a magical quality; you'll be left feeling calm and peaceful after lighting one.
The price point of the candles is very reasonable and they usually cost between €9-€13. I highly recommend Cailleach Candles; I really don't think you will be disappointed with your products.  The candles are fantastic and the service is excellent.  Overall, this is another wonderful, cruelty-free and vegan Irish business to support and I will continue to purchase from Cailleach Candles (www.cailleachcandles.com), in fact I already have and The Witch's Garden candle and a new mug are already on the way to me.