I was recently sent a lip balm from Ruth's Palm–Free Skincare.  This is an Irish business based in Dun Laoghaire where Ruth lovingly hand makes gorgeous natural lip balms and takes on the good fight against palm oil.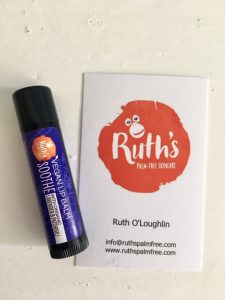 Ruth has recently launched three vegan lip balms: Cool which is peppermint and rosemary, Soothe which is lavender and patchouli and Nourish which is scent free.  I opted to try the Soothe balm as I love the smell of lavender and I suffer with sore and dry lips.
I have fallen in love with the lip balm.  It feels amazing on my lips and I have become a little bit addicted to applying it because it is so lovely.  The balm has done exactly what it claims and has soothed the dryness and soreness.  The balm has a silky feeling and gives a gorgeous soft sheen to my lips.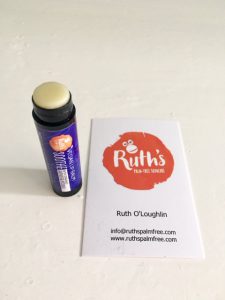 I apply it before bed during my nightly skincare routine and first thing in the morning; I then apply it once or twice more during the day purely because I like the feeling, scent and taste.  One of my dogs particularly likes the taste and dives on me for kisses when I apply it.
All ingredients are natural, vegan and are certified organic.  The products are 100% cruelty free and retail at €5.95.  I highly recommend the balms; I'm a fan of Ruth's ethos, her products are fantastic and purchasing the balms supports a local business.  Ruth's Palm-Free lip balm is without doubt the best lip balm I have ever tried and I will absolutely purchase products from Ruth in the future.