Many years ago I organised a Halloween blogger event to raise money for the Dublin Simon Community.  A number of very generous companies donated products to our  fundraising raffle and the first item I received was a set from Emma's So Naturals.  Since then I've had a great appreciation for Emma's So Naturals.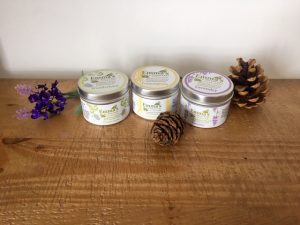 Recently I attended a fair in Farmleigh and saw an Emma's stand.  There were so many beautiful candles on offer and I had to smell almost every single one.  I bought three tin candles and a set of reusable make-up cleansing pads.
Wonderland is my favourite candle.  It is part of the Christmas collection but it reminds me of autumn, the best time of year, with its beautiful pine cone scent.  I absolutely adore it.  I use this candle in our hallway and sitting room and it makes me long for pumpkins and autumn leaves.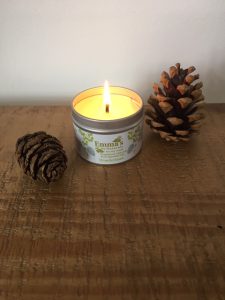 Lavender is a gorgeous relaxing scent that instantly brings about a calming feeling.  I love it for our bedroom as it is soothing and peaceful.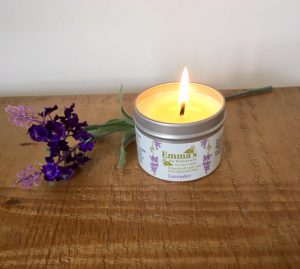 Lemongrass is zesty and energising.  It can be used to clear the air and purify odours so I particularly like it in the kitchen as it takes away the smell of cooking as well as some of stronger scents from our nine animals.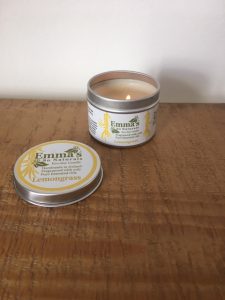 Each tin candle lasts for 20 hours of burning time.  They are all handmade in Ireland with organic soya wax.  They are vegan and cruelty free.  There are no parabens or artificial dyes or scents used. The candles cost €10.50 each and there are deals available on buying bundles.  I bought the three candles at the fair for €25.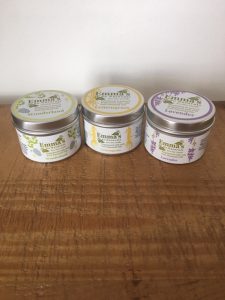 There is a zero waste ethos to Emma's So Naturals and there is a great range of sustainable and environmentally friendly household and beauty products on offer such as soaps, toothbrushes, re-usable coffee mugs and cleansing pads.  I bought a 10-pack of cleansing pads and they are fantastic.  I use them exactly as I would with a disposable cotton pad.  I have very sensitive skin on my eyelids which can sometimes be irritated by disposable pads.  I've had no problems at all with the organic cotton re-usable ones.  They wash very well and are as good as new once they have been cleaned.  They come in a mesh bag that can be used for placing them in the washing machine.  The cleansing pads are €10.
I highly recommend the products from Emma's So Naturals that I have tried.