Wedding planning can be stressful and so much of ourselves is put into every detail and every decision.  Invitations, colour schemes, flowers etc. play such an important role in our lives for the duration of planning and often these things get piled in a storage box afterwards or left behind in the reception venue.  When I go to weddings, I tend to collect some of the items such as petals, ribbons and personalised menus to make something from them for the couple afterwards.  When it came to my own wedding, I knew I would find it very hard to part with our decorations.  A lot of our wedding was DIY; I made the bouquets, boutonieres, centrepieces, invitations, seating plan display, order or service, candy apples for guests, carved pumpkins and every display area in the venue.  I wanted to make sure that we had as little waste as possible afterwards and that I could create some keepsakes for us.  Any items that weren't needed such as frames, flip flops etc. were given away or sold to other couples.
Wedding flowers
I had many attempts before settling on the right combination for bouquets so my flowers weren't real for this reason.  I had never intended carrying a bouquet so hadn't researched flowers.  I was going to carry Pumpkin, my beloved pygmy hedgehog but unfortunately he passed away before our wedding.  I found it hard to think about a bouquet as it was always a reminder that I wouldn't have him with me.  We found ways throughout the wedding to honour him but I included a hedgehog charm on my bouquet which for me felt like I was carrying him.  I also added some of his blanket to the inside of my dress. I left the charm on the bouquet but had another identical one which I made a necklace from.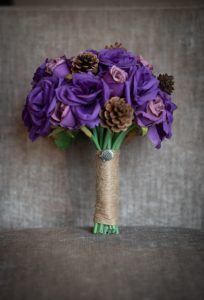 My bouquet is currently stored in a display cabinet with some of my other decorations and centrepieces.  I've seen some gorgeous frames created from bouquets.  These can be created with fresh flowers as well as fake flowers.  Creating keepsakes from fresh flowers requires a little bit more work as the petals and flower heads need to be preserved straightaway.  I opted to have some jewellery made from my petals.  There are a number of other Irish artists and companies that create this kind of jewellery.  This is something that you could attempt to create yourself; to do so you'll need resin and moulds.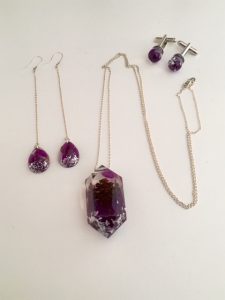 I used a small bell jar that I found on clearance in TK Maxx to house my husband's boutoniere and I placed it with some of our wedding photos.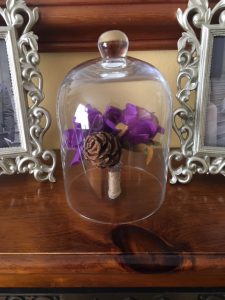 Some of our decorations featured large purple roses so I re-purposed these into a fascinator.  They were added to a black base with some birdcage veil.  It probably took under 20 minutes to make it and I'm thrilled with it.  I can't wait to wear it.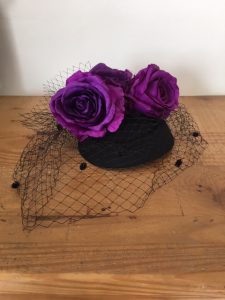 Perhaps the easiest keepsake to make from flowers or decorations is a Christmas tree bauble.  Places like Dealz usually sell a pack of clear baubles coming up to Christmas.  Any decorations can be placed in them.  I added some flowers, pine cones and smaller decorations to ours.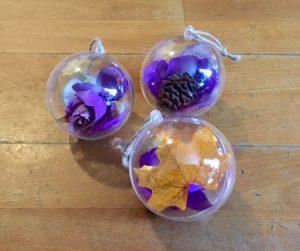 Finally, I took a selection of our flowers and made replica smaller bouquets and placed them on the graves of those who could not be with us on the day.
Invitations
Ikea is a treasure trove for craft projects.  I love it.  I bought some white box frames there for under €5 each.  I wanted to make some keepsakes of some of the paper elements of our wedding.  We designed and made our invitations so again they were very special to us.  I hand stitched lace around each one of them and added some twine and autumn leaves.  Creating the frame was very easy, I simply glued the invitation to the card mount in the frame and added the lace, twine and leaves.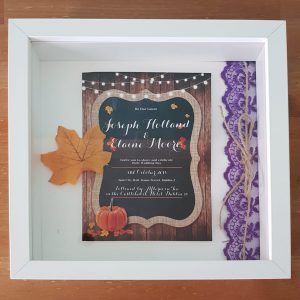 An order of service with some bubbles attached was placed on each chair before our ceremony.  I created a similar display from these with another box frame.  After our wedding ceremony, City Hall gave us the notice that was placed outside their doors; this got the same framing treatment.  I'm really thrilled with our framed memories.  These are a really great way to keep invitations, menus, cards etc. They also make a lovely personalised gift.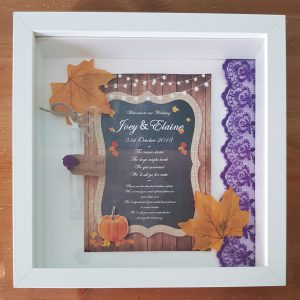 Display cabinet
I've mentioned the display cabinet before.  It is one of my favourite pieces of furniture in our house.  It is a vintage cabinet; my Granny used to have one like it in her good room.  I bought it second hand on Adverts for about €60.  It has been recycled and upcycled.  It houses my flowers, my shoes, our lego cake topper and one of each of our centrepieces.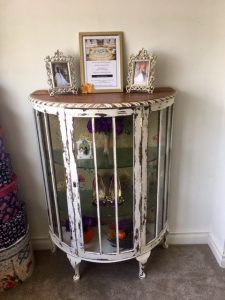 Scrapbooks
I haven't yet started our scrapbook but I have most of the elements ready for it.  This is a really simple and affordable way of preserving important memories and keepsakes from your wedding.  It is a nice project to do together.
General Decorations
The majority of our decorations will be used as part of our Halloween decorations.  Large crates of pumpkins (that were in front of our cake) will be placed in our hallway each year.  The candlestick that we had during our ceremony and on our table during the reception will be placed on our dinning table during autumn.
These are some of the ways I've tried to create crafts and keepsakes from our wedding decorations.  My next mission is to find a better method of housing my dress.