May the fourth is always a favourite in our house.  We love any excuse for a costume but when it involves Star Wars, well that's even better.  Including our fur babies in dressing up is one of my favourite things to do.  This year we had a gorgeous ewok, stormtrooper and Darth Vader join our photo.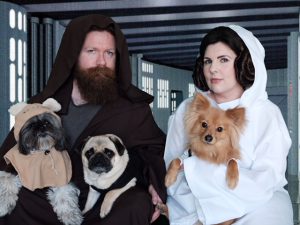 Becoming Leia was a quick make-up look to do and didn't involve too many products.  All of the products I used were cruelty-free and budget friendly.
Eyes
I used two shadows from Obsession's Be in Love With palette, a white and a warm taupe shade.  I then added Milk liner from Nyx to my waterline and on the inner corner of my eyes.  Mascara was my Lash Renegade mascara from Wet n Wild.
Skin
I used Photofocus concealer and foundation from Wet n Wild.  I applied a light contour, also from Wet n Wild.  I used one of my favourite highlighters, Mega Lightning from Obsession and finished my skin off with a blusher from Note Cosmetics in Soft Peach.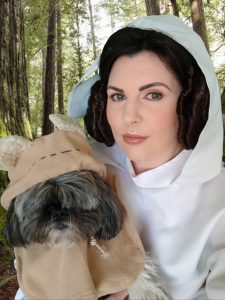 Lips
I kept lips very simple and didn't use a liner.  The only product used was a plumping gloss from Alex Steinherr x  Primark Beauty.
Hair
I tied my hair back and used a Leia hairband that I bought in Disney.
Costume
My costume was custom made for about €30 from Ali Express.
I had so much fun dressing up with my boys.  I hope you all had a great May the fourth.