Lush is a treasure trove of luxurious handmade bath and body products.  There is always something gorgeous on offer and a Lush bathbomb is a real treat.  I'm a fan of their ethical stance and their cruelty-free practice.  Here are some of my current favourites:
Sleepy
My absolute favourite Lush product is the Sleepy lotion.  I love it.  It has the most beautiful calming scent with a blend of lavender and oatmeal.  I find it so calming and it genuinely does help me sleep.  I don't believe there are any magical properties to it but the calming, relaxed feeling the scent brings about helps to ease my mind, allowing me to drift off.
The gorgeous Sleepy scent also comes in a shower gel which is lovely, and the perfect accompaniment to the lotion.
Sleepy product ingredients include lavender, oatmeal, jojoba oil, ylang ylang oil and cocoa butter and they really do have the most magical and peaceful scent.  They are  suitable for vegans.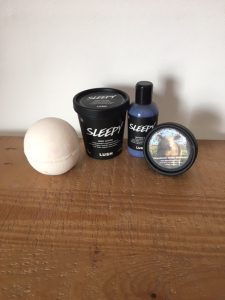 Charity Pot
The Charity Pot lotion supports a number of fantastic charities.  Charities supported by sales in Dublin have previously raised money for organisations such as Dogs' Aid and SOSAD.  The charity pot comes in a number of sizes and prices start at €1.50.  The lotions are incredibly thick and luxurious and can be used as a hand cream, foot cream or body lotion.
Dragon's Egg Bath Bomb
I usually treat myself to the Lord of Misrule bath bomb at Halloween but when I saw that Lush had released a Dragon's Egg bomb, I had to try it.  The bomb is white but contains some brighter pigments that glisten when released in warm water.  Although I prefer the scent of Lord of Misrule, this bath bomb is still gorgeous and contains lemon oil, bergamont oil and jasmine.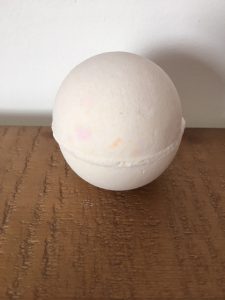 Tote Bag
I bought my Fighting Animal Testing bag last summer and have been using it ever since.  I have pretty much stopped using a "normal" bag except for the odd occasion and bring this one everywhere instead.  It is huge and I can fit loads in it.  The bag is made with fairtrade cotton and was created by the ReWrap project which supports women in India by offering training and employment opportunities in sustainable crafts.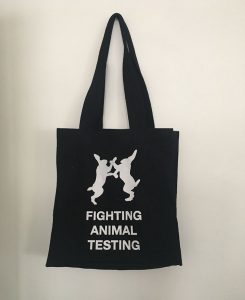 Lush has a great ethical and sustainable stance.  The pots that products are packaged in can be recycled and if you bring back five empty pots to Lush, you will be given a free face mask.
Do you have a favourite Lush product?