As part of our honeymoon, we visited NASA, kitted out in a space themed dress and fascinator (which I made).  I've always dreamed of going to NASA so I was thrilled when we toured The Kennedy Space Centre in Florida.  Everything about NASA was amazing.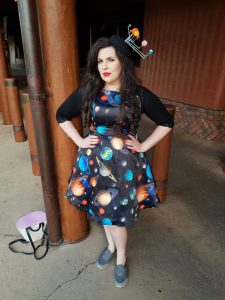 NASA is a 2-3 hour journey from central Orlando so it is a bit of a trek.  Approaching Cape Canaveral is an exciting moment as the drive takes you across a stretch of land on the sea.  NASA is actually a wildlife sanctuary so a careful look at the water can result in manatee sightings.  There are also a number of aligator sightings on the way which is very strange and fascinating if you're like me and hadn't seen one before.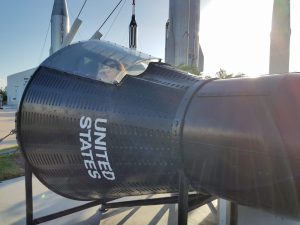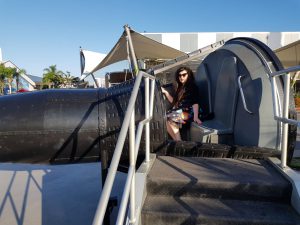 The first thing we saw when we arrived to The Kennedy Space Centre is the rocket garden.  It is incredible to stand amongst rockets and shuttles that have been in space.  Some of them can also be boarded which I took full advantage of.  I was surprised by the size of some of them and found it hard to imagine that two astronauts had explored space in the tiniest of areas, sometimes for weeks.  It was hard to not feel claustrophobic thinking about it.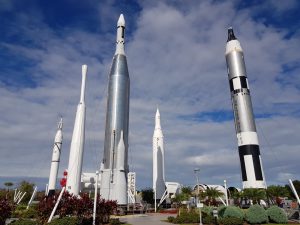 After venturing through the rocket garden, we then made our way to Atlantis.  The fuel engines outside of the Atlantis building were a replica of the ones actually used but it was impossible to not feel mesmorised by their size.  Outside the building, we met our wonderful tour guide who told us to prepare for something amazing.  Despite our guide's advice, nothing could have prepared us for what we saw.  It is hard to put into words what we saw as it wasn't just a visual display, it was a feeling and emotion and it was powerful and moving.  We were shown a short video of Atlantis, the success and failures that took place over the years that led to Atlantis' creation.  We saw its voyage and the views it took in from space.  The show was so well done and at the end the screen lifted to reveal the real Atlantis.  There it was suspending from the ceiling in all of its glory for us to approach.  It was a breathtaking experience and one I'll never forget.  We toured around the Atlantis floor and learned lots of facts and lessons as well as boarding a mock shuttle and attempting to learn how to fly it.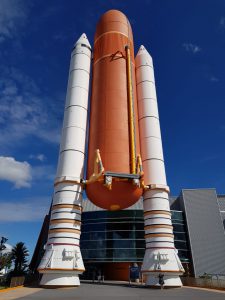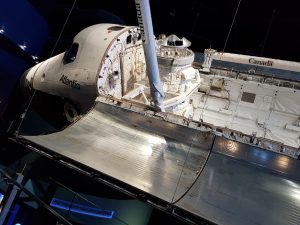 After Atlantis, we opted for some lunch before embarking on our Saturn V tour.  It might seem weird to mention lunch when talking about space travel and exploration but I genuinely had the best baked potato of my life and I need to write about it.  It was so so so good!  If you go to NASA, visit all there is to see and do but definitely get a baked potato.
Following my amazing baked potato, we boarded the bus tour to Saturn V.  Our tour guide was the nicest man ever and I really enjoyed listening to him.  He pointed out the wildlife in the sanctuary as well as rockets that were used in NASA's history.  We were shown the building where rockets are built which is enormous, absolutely enormous. We also saw the area that the astronauts' families used to watch from as their loved ones were blasted through the skies.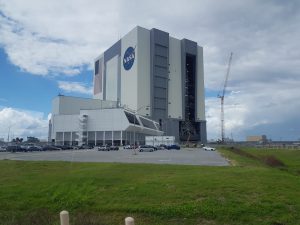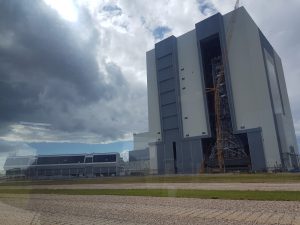 When we arrived to the Saturn V building, we entered a simulated experience of the launch to see the moon.  It was incredible.  We were transported back to 1969 in NASA's control centre.  The experience was so well done as we felt every emotion that those scientist and engineers must have felt.  The room shook as the rocket was about to launch.  It was so moving and powerful and a real privilege to have experienced.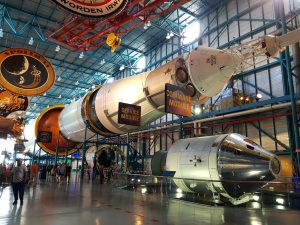 We then saw Saturn V attached to the ceiling and stretching across the full length of the building.  We couldn't help but be in awe of its size and magnitude.  The sheer enormity of it was almost overwhelming.  To the side of it, there is a piece of the moon that can be touched.  It was much smoother than I had imagined.   I still can't quite believe that I touched a piece of the moon.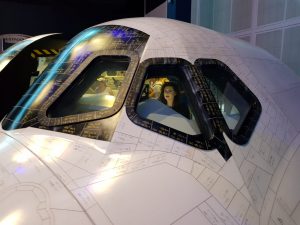 After arriving back to the main buildings, we watched a documentary on the future of space exploration and were enthralled in hearing from some of NASA's new recruits and what the voyage to Mars means for them.  The journey could take up to three years to complete and it was fascinating to learn more about what exactly it entails.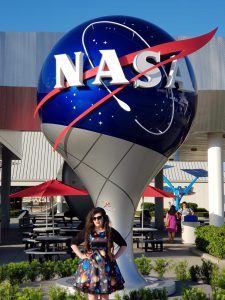 As a little girl, I was amazed by the sky above me.  I read about stars and planets and tried to learn all I could about space.  As I got older, I dreamed about visiting NASA but never saw it is a realistic possibility.  I'm so thrilled that we had such a memorable experience and were able to make it part of our honeymoon.  I'll always remember our visit to NASA; it was one of the most incredible things we've done.