It has taken a while but I wanted to put a post together on some of our wedding vendors and suppliers that we were very impressed with and would recommend.  Finding the right suppliers for your wedding can be a daunting task and we certainly had a few that we wished we had stayed away from.  For the most part, I will focus on the positive experiences we had and I'm only writing about suppliers we feel very strongly about.  I hope this post is of some use for you.
Hair
Regular readers will know that my hairdresser is the absolute best.  Lisa from Zinc Hair and Beauty is amazing.  I was delighted that Lisa was able to do my hair on the day as I can't imagine anyone else being there.  Lisa did my hair, two bridesmaids, my mam and even gave the groom a blowdry (hair and beard!).  She did a fantastic job and understood my need for big hair.  She was such a calming presence and we're thrilled that she was part of our day.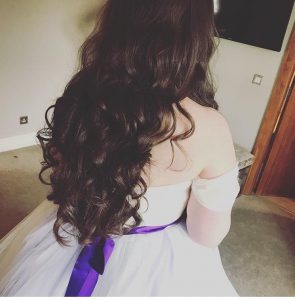 Nails
Staying with Zinc Hair and Beauty, Janine did an amazing job on my nails.  It was the first time I had Shellac and I was very happy with my bright red claws.  Janine is lots of fun to be around and I was certainly in great hands.  CND is used in Zinc which is a great cruelty-free brand.
Dress
I have some fantastic people to recommend when it comes to my dress but unfortunately I will be starting off with a word of advice on who to avoid.  I purchased my dress from The Bridal Outlet.  My initial experience, when choosing the dress with them was positive but that's where it ends.  The Bridal Outlet has a great range of dresses which is fantastic but personally, I wouldn't recommend them to a friend.  I had problems from the minute I ordered my dress.  My ideas for customisation were put down and belittled, remarks were made about my weight, size and the way I look.  At one point, months after I paid my deposit, I received a call asking if I'd paid it and it was unclear whether they'd actually ordered my dress at all.  I paid for extra material that never arrived and then had to fight for my refund.  Buttons were broken on my dress when it arrived. The list goes on.  This leads to me one of the best experiences I had, meeting Tereza Illeova, the dressmaker that changed my ordinary dress to an extraordinary purple and blue (which you probably can't see in my tiny photo) work of art.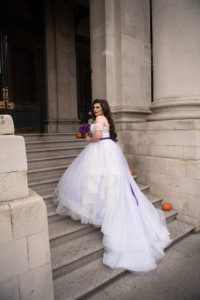 Photograph by The Fennells
Tereza was recommended to me by a friend and I took my dress from the Bridal Outlet to her for alterations and customisation.  From the minute I met her, I felt comfortable and excited to work together.  I was nervous to tell her about my ideas as they had been ridiculed in the shop but she was so enthusiastic about them.  She had the patience of a saint when I couldn't decide what I wanted to do about sleeves (arm camouflage!).  Tereza understood my vision for my skirt and created a masterpiece.  She also created wonders with my next day dress, my purple cloak and the groom's cravat.  Most importantly, she customised the dogs' suits with matching material.  One of the saddest parts of the wedding being over is that I don't get to visit Tereza anymore;  I loved our chats.  I highly recommend Tereza for any alterations.  Please get in contact with me if you want her details.
Harmony Dry Cleaners in Clondalkin genuinely saved my wedding dress.  Some of you may have seen on Instagram that my dress was destroyed by a jacket I bought from Boohoo.  The jacket in question is the Married biker jacket to go over wedding dresses.  The dye from the jacket ran and destroyed my dress.  I brought my dress to Harmony Dry Cleaners in a panic.  It is a family run business of miracle workers.  Initially, it was thought that my dress could not be fixed but Alison and her dad worked absolute wonders on my gown and saved it.  I nearly cried with happiness when I saw the end result and I will be forever grateful to them.  They are absolutely fantastic.
Rings
We used Christopher Murphy to create our purple vision.  Christopher understood that we were looking for something that was one of a kind and a little quirky.  He worked with us to create a stunning, art deco inspired piece of art.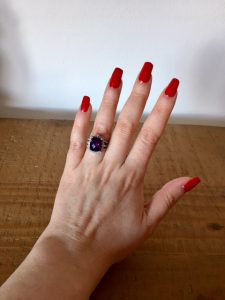 Transport
I wasn't too bothered about transport as I'm not really a fan of traditional wedding cars.  Up until about two weeks before the wedding, I intended to drive my own car until I realised my massive dress wouldn't fit in my little mini.  We opted for a 1960s VW van and it was perfect.  It suited us and we had so much fun travelling in our idea of vintage transport.  We booked the van through VolksWeddings and we're delighted that we did.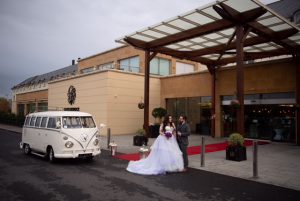 Photograph by The Fennells
Photographer and Videographer
Both services were provided by The Fennells and we feel so lucky that we chose them.  From our first meeting with Mark, we felt that our vision was understood.  Mark and Fiona were a lot of fun to work with and made us feel relaxed and comfortable.  I'm camera shy and socially awkward but they managed, somehow, to get some photos of me without me looking too much like Jabba the Hutt. Our photographs and video are stunning and we'll treasure them forever.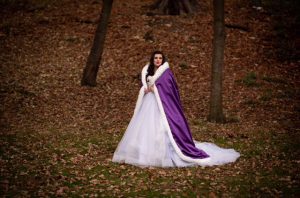 Photograph by The Fennells
City Hall
City Hall was the most magical building to get married in.  it is steeped in history and is such a beautiful and special venue.  Everything about it is breath-taking and we feel so privileged to have been married there.  The staff couldn't have been more helpful and we appreciate everything they did for us, in particular allowing our fur babies to be part of the day.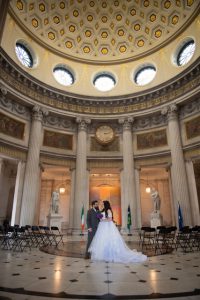 Photograph by The Fennells
Cake
We weren't too bothered about getting a cake initially and I think it is fair to say we shouldn't have bothered.  We used Amazing Cakes and we're very sorry that we did.  They were quite rude and dismissive to deal with and we were bitterly disappointed on the day when we saw our cake as it wasn't what we had ordered.  The follow up customer service has been absolutely horrendous so it is a supplier that I would certainly advise avoiding.
DJ
Shane from Event Innovations was amazing.  We were quite anxious about music as we really aren't a fan of the usual wedding bands and music.  We had been to see a few bands but they weren't for  us.  We were delighted to meet Shane and he allowed us to create our own playlist.  Our music was fantastic and we were thrilled with Shane.
Flowers and Decor
All of the flowers and decor were designed and created by me.  There are plenty of faults with them, particularly the bouquets as I had no experience with flower arranging before.  There were times I felt like giving up when doing the centrepieces and decor but I'm glad that I didn't and it meant a lot to have been able to create our vision ourselves.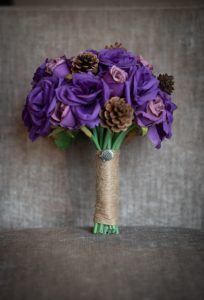 Photograph by The Fennells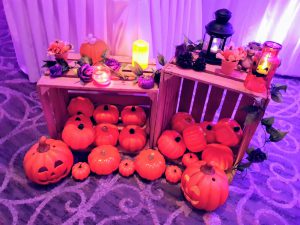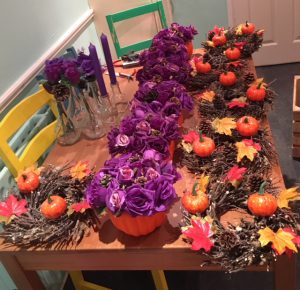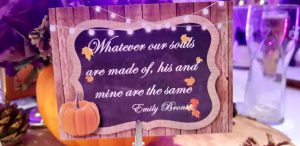 I hope that this post is of some use to those of you planning a wedding.  If you want contact details of anyone I recommended, please let me know and I'll happily pass them to you.  Similarly, if anyone wants any information on crafting your own wedding decor, do get in contact.