My new obsession is Obsession make-up.  Obsession is a cruelty-free and vegan brand which produces affordable, good quality make-up.  I was curious to try the brand and found them in my local Boots.  I have tried a number of products and I would recommend everything that I've used.  Here are my thoughts:
Foundation Mixing Drops
The first products I tried from Obsession are these foundation mixing drops.  I opted for the lightening and darkening mixtures.  These work well in my foundation.  I used them for two specific looks, the first was Maleficent at Halloween.  I liked the texture and coverage of my foundation so I didn't want to add in a different product for my extreme contour so the mixing drops worked perfectly.  Similarly, I used them for my Christmas reindeer and was very pleased with the results.  I'm very impressed with these drops.  I can't remember the exact price but I think they were about €6 each.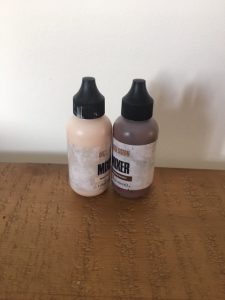 Mega Lightning Highlighter
I can't get enough of this highlighter.  It is amazing.  I bought it in October and I've used it every day since.  I brought it on honeymoon and used it for my wedding part 2 look.  So many people have asked me what highlighter I'm wearing.  It has a gorgeous glow that can be seen from space but it doesn't have a tinfoil or heavy look to it.  A little can give a very subtle glow but being honest, I usually apply mine in a not so subtle fashion.  I absolutely love it and it is one of my new favourites.  As I said, I've used it every single day since I bought it.  It is under €5 and everyone needs it.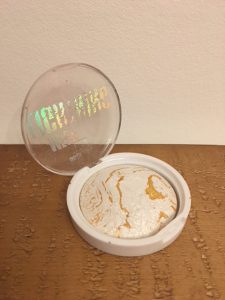 Belle Jorden Palette
This palette caught my eye when I was buying highlighter and I was intrigued by it.  There are 16 shades in the palette that are incredibly striking and there is a variety of matte and shimmer shadows.  The shadows are incredibly vibrant, pigmented and long lasting and for the €13 price tag, you can't go wrong.  I'm really impressed with this palette and I've gotten lots of use out of it as you'll see from the below photo (I should have taken it before using it so much).  I'm really loving Glow Baby and Sassy in particular.  There is something for everyone in the palette.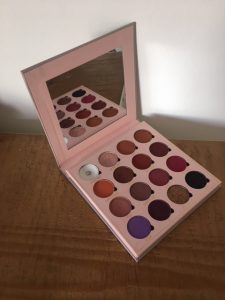 If in Doubt Be a Unicorn Palette
This is another eyeshadow palette and is a recent addition to my collection.  I haven't used it too much as it is quite new but I'm very impressed by what I have used. Immortal is my favourite shade and I have been patting it over my shadows for the last few days to add a touch of glitter.  Again, I've had lots of queries about my shadow.  The glitter stays on really well without dropping all over my face.  There are 8 shadows in the palette for €6.  It is a bargain.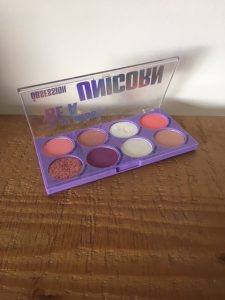 Mega Conceal
This is a new product from Obsession and it is an under eye concealer designed to camouflage tired eyes and dark circles.  The product contains caffeine so it very much depends on your view on this.  Being honest, I need to do more research into caffeine in products.  I do, however, like the concealer and it covers my very dark circles well.  This was €9.
I'm genuinely impressed with the Obsession products that I tried and I would definitely re-purchase these products.  My favourite is the highlighter but overall all of the items are great in terms of quality and price.