It has been a while since I have blogged and a lot has changed, to begin with, I have a whole new website and blog name.  I'm thrilled to now be The Pumpkin Life and I feel it is much more fitting and appropriate.  I can't think of a better brand for my first blog post with my new name than Wet n Wild.  Wet n Wild is an old friend to me and a brand I truly love.  Today I'm talking about their new offerings.
Nude Awakening Eye Palette
I adore a nice brown / neutral palette.  I have been using this palette since I got it which was about two months ago.  I apply my make-up at 6am and my eyeshadow is perfectly in place until I remove it later that night.  I've created neutral everyday looks as well as more defined and slightly smokier eyes.  I love the shades and I have a soft spot for the red brick shade, it is gorgeous applied to the outer corner of the eyes for definition.  I have been telling everyone about this palette.  It is under €7 and the quality far exceeds the price point.  There are ten shades ranging from a beige tone to a black with a mixture of matte and shimmer finishes.    The palette is just over €8.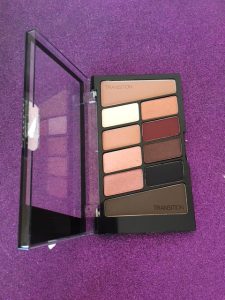 Perfect Pout Gel Lip Liners
These are probably the best lip liners I have ever used.  They are so easy to apply and wear.  They don't dry out my lips.  The pigment stays in place all day.  The gel lip liners have a crayon consistency which makes them slightly easier to apply than a pencil as they don't drag.  There is no need to sharpen them as they have a twist function.  They come in six shades and I have three, a pink/nude tone, a red and a plum.  The lip liners are €3.95 each.
Photofocus Finishing Spray
I've said before that I'm a huge fan of the Photofocus foundation so I was thrilled to see that a finishing spray was being released in the range.  This is essentially hairspray for your make-up.  It comes in both a matte and natural finish but it isn't drying at all.  It contains aloe so your skin will stay hydrated.  The spray feels nice when applied to the skin and will keep your make-up perfect.  I found that this performed as well as some of its more expensive counterparts.  The finishing spray is €5.95.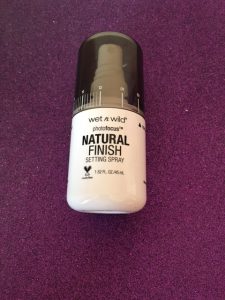 The Saving Base and Hard as Nails
There are two nail products I want to talk about; the first of which is The Saving Base.  I'm honestly recommending that everyone buy this product for their nails because it really is amazing.  It contains all sorts of magical ingredients to rescue a sad nail.  I have very long claws but unfortunately I've had a few cracks and breaks in them which I tried to save with glue and a teabag (seriously, it works!) but they needed a little bit of extra care and I have been using The Saving Base on them to resurrect them.  It has been working brilliantly.  It is sold as a 10-in-1 product but I'd say it has more benefits than 10.  I use it as a base coat under my usual Wet n Wild red polish and I love it.  The Saving Base costs €2.95.
Hard as Ice is a top coat which gives a high gloss finish.  It says that it will preserve polish for up to one week but I've found it lasts longer.  I try to paint my nails weekly but lately it has been more fortnightly as I'm so busy; they start to look a bit chipped at the two week mark but I think that is great for a €2.95 product.  It is also fast drying which is very helpful.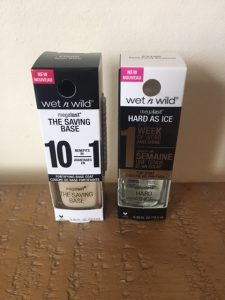 Liquid Catsuit Matte Lipstick
There is a strong chance that if you've ever met me, I've told you about my love for the Liquid Catsuit collection.  I have one in every single shade and at the moment they are pretty much the only lipsticks I wear.  I'm obsessed with them.  I've always been a fan of Wet n Wild's lipsticks but these are incredible.  My most recent purchase has been the newest addition to the collection, Behind the Bleachers.  It is a burgundy shade.  The Liquid Catsuit collection is vegan as well as cruelty free.  I adore this range because although the lipsticks are matte, they aren't drying and don't make my lips look cracked, the shades are gorgeous, pigmentation and lasting power are fantastic and I know with 100% certainty that my lipstick is not going to budge or smudge all day.  Liquid Catsuit lipsticks are €5.00.
Megalast Lip Colour
I'll end this review with another lip product, the Megalast Lip Colour collection.  As I said above, I'm a huge fan of Wet n Wild's lipsticks and pretty much have every single one of them.  The one I want to mention today is the new shade, Black Out.  I know that black lipstick isn't for everyone but I really like it. Black Out is no different to the other fantastic shades as it feels nice to wear, has great pigmentation, lasts well and performs much better than its price tag would suggest.  If you're looking for a black lipstick then this is the one for you.  Whether it is for everyday wear or Halloween, I highly recommend it.  The lipstick costs €2.95.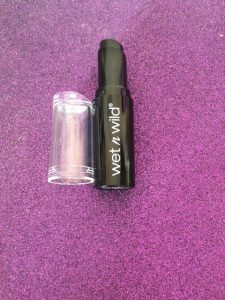 There it is, my ode to some of the amazing new products from Wet n Wild, a fantastic, affordable, cruelty free brand.